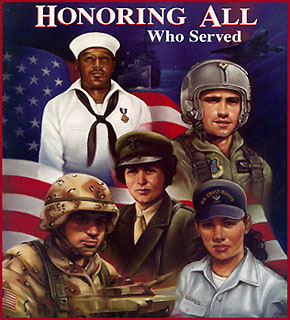 Let us never forget the Veterans of Orange County.
To honor our veterans, Paoli Public Library would like to create a digital and written record of Orange County veterans that will serve generations to come. The project will be online and will also be housed in the genealogical records of the Paoli Public Library.
In order to participate in this project, we need the following information about the veterans that you would like to include:
Service – connected pictures of veterans in uniform, performing their service-connected job, with their buddies, in their surrounding locations while serving, with family, etc.
A written account about their military experiences. There is a questionnaire provided to complete.
The information will also be scanned as a part of the veteran's digital record. Some veterans may also wish to provide a written biographical account of their time in the service. Friends and / or family members are encouraged to participate in the project by providing information and photos for any veteran that is deceased. The project will provide county residents a time for reflection, camaraderie, and support for veterans.
In addition to the online project, on Veteran's Day 2019, the library staff will light a Remembrance candle in honor of all veterans. Books that focus on the service of veterans will also be on display and available for checkout. Visitors may also view the digital information about the veterans.
You may view the presentation below by clicking the link.
https://drive.google.com/open?id=1iVYO2cfwqRx5g4G-jom-c6mKIPEOCG4o