We invite you to find your family history in our Genealogy Department!
---
---
This slideshow requires JavaScript.
Area History
Orange County was formed from parts of Knox County, Gibson County and Washington County by the Indiana Territorial Legislature, on December 26, 1815 (effective February 1, 1816). In 1816 the Orange County seat was designated at Paoli, which was named after Pasquale Paoli Ash, the 12-year-old son of the sitting North Carolina Governor.
Info source: https://en.wikipedia.org/wiki/Orange_County,_Indiana#:~:text=Orange%20County%20was%20formed%20from,effective%20February%201%2C%201816).
Library History
The Paoli Public Library's original Carnegie building was built in 1918, and in 2010, we moved to our new building at 100 West Water Street. For more information on our library's building history, please see this article: "Carnegie Arrives in Orange County" by Kenneth Perry McCune.
Our collection contains:
Our Library's Genealogy Area Rules
All books and materials in the genealogy department are REFERENCE ONLY and may not be checked out of the library.
The Orange County Courthouse (on the square) has marriage and probate records from 1816. Their phone number is 1-812-723-3600.
The Orange County Health Office has birth and death records from 1888.
The Orange County Recorder's Office has land / deed records from 1816.
---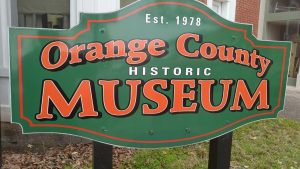 The Orange County Historical Society is excited about its new season. The recently updated museum located on the NW corner of the Courthouse Square in Paoli is open on Fridays 10 am to 2 pm. Other times are available by appointment.
Visitors will find memorabilia of the Orange County communities through the years including antique clothing, primitive farm tools and woodworking tools, church records, court records, books and a rare miniature English Tudor dollhouse with furnishings.
The museum is housed in the 130 year old historic Dr. J.H. Sherrod House circa 1885. A one room schoolhouse and a doctor's office are re-created upstairs at the museum, reflecting the early American period.
No admission is charged; although donations are accepted.
The Historic Lindley Farm House remains open in season by appointment only at this time.
---
For more genealogical information, please see our Subject Guide.
A Few Genealogical Links
Where to Stay While You're Here
Planning to visit Paoli, Indiana? Here are the recommended places to stay for our area…
---